Home > Business > Public health education > Health Course
" The Golden Time of Health and Life, we keep together. "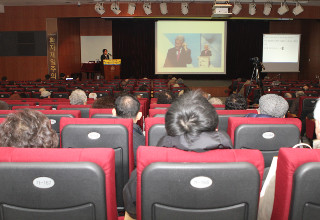 Myongji hospital is establishing various health courses for patients and local residents, and it is helping disease prevention and health management by dispatching professional instructors to events hosted by various institutions.
Educational administration and staffing
It is providing professional personnel and resource through link with related institutions such as health-center, welfare center, educational institution, and church in local community.
In order to enhance the professionalism and quality of education, all the education is attended by the specialists of the department of the hospital and the experts of the field.
Health courses operated by the medical department
• Chronic disease management health course for local community residents
• Special Lecture for Patients
• Hospice palliative care for the general public (cancer integrated healing center)
Art therapy operated by art-healing center for patients and local community residents
• Inpatient (pediatric, cancer patient) target art therapy (music therapy, art therapy)
• Local community vulnerable class linked art-therapy
Health course linked with local community institution
• Inpatient (pediatric, cancer patient) target art therapy (music therapy, art therapy)
• Community arts therapy