Home > Business > Domestic public health-care > Local Community Health Care Support
Local Community Health Care Support
" A hospital serving local community and accompanying with local residents "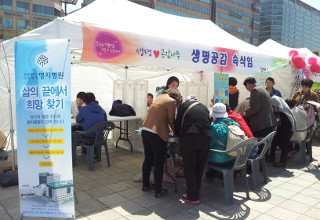 Public Health Medical Service Team of Myongji Hospital is providing various public medical service through link with local government and related institutions in order to fully play a role as local based hospital that takes all the responsibility of the hospital by communicating residents.
Nursing facility medical care support
Rehabilitation services is an activity that conducts for doing rehabilitation medical diagnosis and rehabilitation treatment, which is a volunteer activity of local community that does by making team with rehabilitation professor, resident, nursing division, rehabilitation treatment team, and social business team.
Health Center medical support that directly goes to patients
In order to enable people who are hard to go to hospital due to economical and geographical difficulties to get treatment, health center of local community is doing medical aid to 'mobile health center' that goes to medical vulnerable area
Local community event medical support
It id operating a health management promotion booth in various public interest event, festival, and sports event, and it is doing medical support activity for local festival revitalization and safety accident prevention and treatment.
Suicide prevention business
By participating in joint business of suicide prevention consultative group of Goyang-si, it has participated suicide prevention campaign every year, and it is doing sucide attemptor psychological health-care center link and life-love cure support activity by interventing suicide prevention case.
Health-examination for special schools and facilities for the disabled
Since there are many difficulties in reality for disabled to have health examination in general hospital, disabled are in a dead zone of health examination. Myongji hospital is conducting health-examination by visiting special-education school and disabled life facility.